KISS TOURDATES EUROPE 2017
01.05.2017:
Olympiski, Moscow Tickets
04.05.2017:
Hartwell Arena, Helsinki Tickets Ticketmaster
06.05.2017:
Tele2 Arena, Stockholm Tickets
07.05.2017:
Spekrun, Oslo Tickets Ticketmaster
09.05.2017:
Forum Horsens, Horsens Tickets Ticketmaster
10.05.2017:
Scandinavium, Gothenburg Tickets Ticketmaster
12.05.2017:
Dortmund (Westfalenhalle): Tickets Eventim
13.05.2017:
Stuttgart (Schleyerhalle): Tickets Eventim
15.05.2017:
Pala Alpitour, Torino Tickets
16.05.2017:
Unipol Arena, Bologna Tickets
18.05.2017:
München (Olympiahalle): Tickets Eventim
20.05.2017:
BVV, Brno Tickets
21.05.2017:
Stadthalle, Vienna: Tickets Eventim
23.05.2017:
Frankfurt (Festhalle): Tickets Eventim
24.05.2017:
Ahoy, Rotterdam Tickets Ticketmaster
27.05.2017:
SSE Hydro, Glasgow Tickets
28.05.2017:
Barclaycard Arena, Birmingham Tickets
30.05.2017:
Manchester Arena, Manchester Tickets
31.05.2017:
O2 Arena, London Tickets

March 29, 2017
KISS - LOST SCENE FROM WHY HIM? MOVIE NOW STREAMING

WHY HIM?
The movie "Why him?" (featuring Kiss) is now available on Blu ray and DVD!

[Comments]

March 28, 2017
DESTROYER PROMO MOBILE
A Destroyer Promo mobile with shipping box is currently listed on eBay. The bidding battle has begun.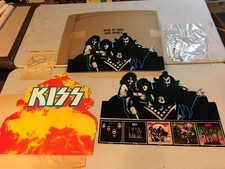 Three Sides Of the Coin Podcast #222: Klassik '78 the Album KISS Should Have Recorded

INTERESTING CLOSED AUCTIONS ON EBAY
Here are some interesting recently closed auctions on eBay:

Unmasked CD Box Set Japan: $ 630,-




Donruss Box 2nd series: $ 500,-




belt buckle: $ 424,-




The Originals LP Japan: $ 387,-




Best of Solo LP South Africa: $ 327,-




Rockstics Set: $ 350,-




Mardi Gras '79 T-Shirt: $ 300,-




belt buckle: $ 256,-




Gene pen: $ 189,-




The Singles LP: $ 209,-




More interesting closed auctions: see above the news
most expensive recently closed
Auctions >>
most interesting
Auctions >>


THE ELDER COMIC
Take a look inside "The Elder" Comic at Amazon, which will be released in May.


GENE SIMMONS LOOKING FOR OPENING BAND AT WIZARD WORLD CONCERT

Legendary Rock Icon & KISS Frontman Gene Simmons Wants You To Open For Him At Wizard World St.Louis
[Comments]

March 27, 2017
KISS ON TOUR 1983 - 1997
(from Amazon)
"KISS on Tour" is a KissFAQ series title that had been in print in physical format for some years. The most recent volumes cover the years 1972–1983 and 1998–2014 (which included several appendices of earlier tours). However, for much of the past two decades an independent work covering the full KISS touring history has been under development for a "KISS Live Focus;" and as part of the touring section for the KissFAQ, and successor KISSMONSTER, websites. This extract, from what currently weighs in at over 875 pages in U.S. letter format (8.5 × 11"), is a more economically viable method of delivering an investigation of the band's performances gearing it to a specific period of the band's history.
Click here to read the rest.


MUSIC LIFE SPECIAL 1977
The reissue of the legendary Japanese Music Life Specials (1977) is now available at CD Japan for about 21 Euros/US $ 23,-/18 Pounds.



Paul Stanley just had his rose tattoo re-inked
[Comments]

March 25, 2017
GENE SIMMONS TALKS UPCOMING SOLO SHOWS – "THE IDEA IS TO DO STUFF THAT YOU WOULD NOT ONLY GET FROM KISS BUT STUFF YOU WOULD NEVER GET FROM KISS"

No KISS and tell: Gene Simmons talks about upcoming solo show in Braman

INTERESTING AUCTIONS ON EBAY
Here are links to some interesting Kiss Auctions that are ending soon on eBay:

Gene pen




Phantom Ticket




Kiss Army kit




backpack




El mito Kiss Special




Lunchbox & Thermos



[Comments]

March 23, 2017
Katey Sagal Opens Up About Affair with Gene Simmons, Says He Helped Boost Her Career

Giving her a big Kiss! Gene Simmons locks lips with wife Shannon as he attends Power Rangers premiere with daughter Shannon and son Nick

Gene Simmons On Idea Of KISS Continuing Without Original Members
[Comments]

March 22, 2017
Guitarist Adam Bomb Recalls His Audition for Kiss

'Married With Children' Star Katey Segal Says Gene Simmons Laughed at the Idea of Marrying Her

HUGE KISS-BILLBOARDS IN VIENNA
There is currently a promotional campaign for the radio station 88.6 in Vienna. Some full page ads are printed in several magazines, and huge Billboards in different sizes are being displayed all over Vienna.



Vampirella Rocks with KISS in KISS/Vampirella this June

KISS TEAMING UP WITH VAMPIRELLA IN NEW COMIC BOOK MINI-SERIES; ARTWORK REVEALED

KISS and Vampirella Join Forces in an Upcoming Horror Comic
[Comments]

March 21, 2017
Three Sides Of The Coin Podcast #221: Being a KISS fan and how our friends and family feel

INTERESTING CLOSED AUCTIONS ON EBAY
Here are some interesting recently closed auctions on eBay:

Canadian Ace Frehley doll: $ 750,-




Set Steins: $ 536,-




"Rock and Roll Over" Picture Disc: $ 500,-




Eric Carr Drumstick: $ 449,-




T-Shirt: $ 500,-




Record Player: $ 400,-




New York Dolls/Kiss Concert Poster: $ 400,-




Kiss Symphony Tourbook: $ 309,-




Aussie "Rise to it" 7" Single: € 222,-




More interesting closed auctions: see above the news
most expensive recently closed
Auctions >>
most interesting
Auctions >>


KISS' Gene Simmons to headline music festival in Braman
[Comments]

March 20, 2017
Adam Bomb: The day I auditioned for Kiss

Gene Simmons' special KISS for Perth bride

GENE SIMMONS PAYS TRIBUTE TO CHUCK BERRY AT CLEVELAND SOLO SHOW; FAN-FILMED VIDEO OF "JOHNNY B. GOODE" COVER POSTED

KISS co-founder Gene Simmons at Wizard World Comic Con
[Comments]

March 19, 2017
GENE SIMMONS Pays Tribute To CHUCK BERRY With 'Johnny B. Goode' Performance In Cleveland (Video)

Gene Simmons Pays Tribute to Chuck Berry at First-Ever Solo Concert

Gene Simmons Setlist at The Agora, Cleveland, OH, USA , 18.3.2017

Videos: Gene Simmons live at The Agora, Cleveland, OH, USA , 18.3.2017

Video: Selfies live on stage: Gene Simmons "Rock and Roll All Night" live in Cleveland 2017
[Comments]

March 18, 2017
When KISS brought the thunder to The Summit in Houston in 1976

INTERESTING AUCTIONS ON EBAY
Here are links to some interesting Kiss Auctions that are ending soon on eBay:

Super Poster 8/1978




Super Poster 6/1978




Super Poster 4/1978




German concert poster 1980




Lunchbox & Thermos




Vest & Shirt




Set Steins



[Comments]

March 17, 2017
Audio: Eddie Trunk on Paul Stanley's Soul Station 3.9.2017 (Kiss)

KISS - INDIANAPOLIS FAN EXPO 2017 CONFIRMS APPEARANCES BY ERIC SINGER AND BRUCE KULICK

Audio: Producer Bob Ezrin on KISS's 'Destroyer' -- TRUNK NATION w/Eddie Trunk, SiriusXM's VOLUME
[Comments]

March 16, 2017
Become a Speed Demon with Sciacallo's KISS Triathlon Bike

2017 Indy KISS Fan Expo on April 15th with Eric Singer, Bruce Kulick & Bob Kulick

Bruce Kulick: Explaining the petrifying, intimidating genius of Eddie Van Halen

PODCAST ROCK CITY -Episode 145- Creatures of The Night vs. Lick It Up!
[Comments]

March 15, 2017
PETER CRISS – ORIGINAL KISS DRUMMER ANNOUNCES LAST LIVE U.S., AUSTRALIA PERFORMANCES

Peter Criss Plans Last U.S. Live Performance

Original KISS Drummer PETER CRISS Announces 'Last' Live Performances In USA, Australia

Peter Criss Announces 'Final Live Performance in the U.S.A.'

New York KISS Expo w/Peter Criss, Australia KISS Convention w/Peter Criss

PodKISSt #132 Gene Live! Phil Shouse
[Comments]

March 14, 2017
Gene Simmons will celebrate geek side at Wizard World Cleveland, rock Agora

KISS frontman Gene Simmons coming to Wizard World 2017 in Cleveland this week (photos)

Three Sides Of The Coin Podcast #220: A Day In The Life of Three Sides of the Coin, Welcome to the Psycho Circus

INTERESTING CLOSED AUCTIONS ON EBAY
Here are some interesting recently closed auctions on eBay:

Ace Frehley costume: $ 1.800,-




Gene Simmons Asylum costume: $ 3.000,-




Peter Criss Alive Worldwide costume: $ 3.200,-




Paul Stanley Alive Worldwide costume: $ 3.400,-




Ace Frehley Jacket: $ 3.200,-




Roadcase: $ 1.100,-




Kiss LP first pressing: $ 548,-




Eric Carr Drumstick: $ 446,-




Kissteria Vinyl Roadcase: $ 1.450,-




More interesting closed auctions: see above the news
most expensive recently closed
Auctions >>
most interesting
Auctions >>


PETER CRISS - ONE LAST TIME 12.5.2017, MELBOURNE, AUSTRALIA (Peter and his star studded band including Angel from the CRISS band as well as the hottest musicians in Australia)
[Comments]

March 13, 2017
NEW BOB KULICK ALBUM TO FEATURE GUEST APPEARANCES FROM DEE SNIDER, RUDY SARZO, VINNY APPICE, FRANKIE BANALI, ERIC SINGER AND MORE

KISS, TWISTED SISTER, Ex-BLACK SABBATH Members To Guest On BOB KULICK's Solo Album

Watch as Kiss Defy City Pyro Ban By Setting Off All Their Explosives in Just 30 Seconds
[Comments]

March 12, 2017
KISS 1977 - 1980
(from Amazon)
The comprehensive story, as well as an intimate look, at the legendary band KISS at their rock-god peak, as captured by celebrated rock photographer Lynn Goldsmith.
KISS is an American arena-rock group that formed in the early 1970s in New York City and is most recognizable by their face paint and dramatic outfits. With makeup and costumes, Paul Stanley, Gene Simmons, Peter Criss, and Ace Frehley created characters and origin stories similar to comic book characters: the Starchild, the Demon, the Space Ace, and the Catman. KISS rose to meteoric prominence with their extravagant live performances, featuring fire-breathing, blood spitting, guitars bursting into flames, shooting rockets, levitating drum kits, and pyrotechnic showpieces.
Published in conjunction with the band, KISS is the definitive chronicle of one of the most popular and enduring rock bands at the height of their popularity, showcasing the band performing in arenas and behind the scenes offstage—in both unguarded candids and glamour portraits.
The book contains a wealth of never-before-seen and previously unpublished photographs and new interviews with Gene Simmons and Paul Stanley, all bound into an artful, insider's view of the band.


KISS EMOJI KEYBOARD APP AVAILABLE FOR APPLE AND ANDROID USERS

KISS FRONTMAN PAUL STANLEY ON WORKING WITH SOUL STATION - "IT'S A LUXURY AND A BLESSING"

Videos: Ace Frehley live at Pabellón Cuervo, Mexico City, Mexico, 11.3.2017

Ace Frehley Setlist at Pabellón Cuervo, Mexico City, Mexico, 11.3.2017

Paul Stanley and Soul Station Wonderful at Sayers Club Hollywood
[Comments]

March 11, 2017
THE KISS ROOM - MARCH 10 2017

Videos: Ace Frehley live at Escena, Monterrey, Mexico, 10.3.2017

Ace Frehley Setlist at Escena, Monterrey, Mexico, 10.3.2017

Set to Appear at Wizard World and Perform at the Agora, KISS' Gene Simmons Discusses His Love of Comic Books

Kiss' Paul Stanley Gets Soulful With New Project

INTERESTING AUCTIONS ON EBAY
Here are links to some interesting Kiss Auctions that are ending soon on eBay:

First Tourbook 1976



Kiss Kruise V Merchandise (over 40 items)




Kiss Kruise VI Merchandise (over 50 items)




Kiss Kruise IV Merchandise (over 40 items)




Set Halloween Costumes




Kiss Costumes







Roadcase



[Comments]