27. Oktober 2018
NITA STRAUSS Says PAUL STANLEY And GENE SIMMONS Were 'Very Nice To Work For'

VINNIE VINCENT
Vinnie Vincent tritt wieder mit Make-up auf....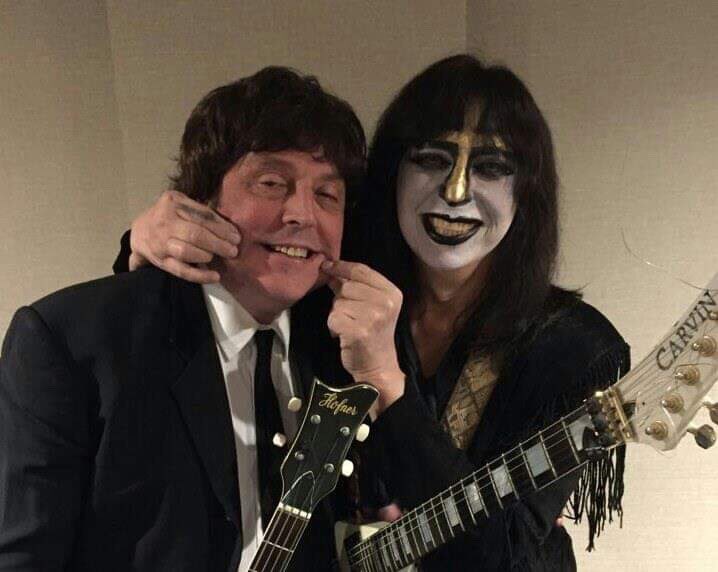 AUSLAUFENDE AUKTIONEN AUF EBAY
Wie jeden Samstag kurz vor 12 Uhr gibt es hier wieder Links zu einigen interessanten auslaufenden Kiss-Auktionen auf eBay:

Paul Solo Album RIAA Gold Award




Didi Zill Buch




Donruss Box Australien




Rub'n Play




Set Bleistifte




aufblasbarer Sessel




Radio




Smashes, thrashes & hits RIAA Award



[Deine Meinung]

26. Oktober 2018
Ace Frehley: I Have to Be Honest - I Used Fender Guitars on All KISS Records

KISS TO APPEAR ON SIRIUSXM TOWN HALL, THE TONIGHT SHOW STARRING JIMMY FALLON

KISS To Discuss 'End Of The Road' Farewell Tour At SiriusXM's 'Town Hall' Next Monday

HAS KISS JUST UNVEILED THEIR NEW 'END OF THE ROAD' TOUR COSTUMES?

Ace Frehley Adds Demand if KISS Wants Him to Participate in Final Tour
[Deine Meinung]

25. Oktober 2018
ACE FREHLEY – HALL AUS DEM ALL!

NYC – KISS: End of the Road Q&A



HALLOWEEN TUTORIAL: GENE SIMMONS' 'DEMON' MAKEUP

ACE FREHLEY IN DER PRESSE
Ace ist auf der Titelseite von Power Play Magazin (UK, issue 213). Vielen Dank an Paul Scarbrorough für die Info.
[Deine Meinung]

24. Oktober 2018
ACE FREHLEY - "GETTING INVOLVED WITH KISS ON THE ROAD WOULD TAKE PRECEDENCE OVER WHAT I'M DOING WITH MY BAND"

ACE FREHLEY Would Only Participate In KISS's Final Tour If He Could 'Take Back' His 'Make-Up, Costume And Character'

KISS Setlist at Shrine Auditorium, Los Angeles, CA, USA, 22.10.2018

KISS Scheduled To Perform On October 30 "Tonight Show Starring Jimmy Fallon"
[Deine Meinung]

23. Oktober 2018
NEUE PETER CRISS CD
2018 Remaster Peter Criss Cat #1 mit Bonus Tracks Japan Mini LP CD ist nun erhältlich!




KISS BLOOD & STARDUST #1 OUT THIS WEEK!



Attend An Exclusive Q&A Session With KISS On October 30th At The iHeartRadio Theater In New York City!

ACE FREHLEY IN DER PRESSE
Neue Magazine mit Ace Frehley Berichte:
Slam #100 (Nov./Dez. 2018), 2 Seite
Guitar #222 (11/2018), 2 Seiten

INTERESSANTE BEENDETE KISS AUKTIONEN AUF EBAY
Woche für Woche ist es spannend zu sehen, für welche Summen so manche Artikel weggegangen sind. Hier wieder eine Zusammenfassung der interessantesten beendeten Kiss Auktionen letzter Woche auf eBay:

Set Premium Figuren: $ 2.500,-




Spiegel: $ 1.700,-




Destroyer Promo Display: $ 1.000,-




Double Platinum LP: $ 560,-




Flipperglas: $ 475,-




T-Shirt: $ 378,-




Rub'n Play: $ 335,-




Mehr interessante beendete Kiss Auktionen: siehe weiter oben
die teuersten beendeten
Auktionen >>
most interesting
Auctions >>
.

KISS - PAUL STANLEY TALKS NEW BOOK - "HOW I GOT FROM POINT A, ALL THE WAY TO POINT Z"

PAUL STANLEY Says His Upcoming Second Book Is 'Almost A Companion To The First'
[Deine Meinung]

21. Oktober 2018
ACE FREHLEY TALKS NEW SINGLE "ROCKIN' WITH THE BOYS" - "I ACTUALLY WROTE THAT CHORUS IN THE '70S"

KISS co-Founder Gene Simmons on His New Book, Personal Growth and MoneyBag Sodas

GENE SIMMONS TEAMS UP WITH DOUBLE DIAMOND FARMS TO LAUNCH LIBERTY NATURAL FOOD PROGRAM

Ace Frehley Talks About His Only Friend, Possible KISS Reunion, New Music + More

ACE FREHLEY Says He's Already Started Recording Sequel To 'Origins' Covers Album
[Deine Meinung]

20. Oktober 2018
GENE SIMMONS TEAMS UP WITH DOUBLE DIAMOND FARMS TO LAUNCH LIBERTY NATURAL FOOD PROGRAM

AUSLAUFENDE AUKTIONEN AUF EBAY
Wie jeden Samstag kurz vor 12 Uhr gibt es hier wieder Links zu einigen interessanten auslaufenden Kiss-Auktionen auf eBay:

Gene Halloween Kostüm




Halskette




Rub'n Play




Weinflasche




Rock and Roll Over US Promo EP




Paul Rockstics




Gene Puzzle




GENE SIMMONS STEHT AUF BLUE RUIN
BLUE RUIN sind fünf Ladys aus Neuseeland, die Euch den Hintern wegrocken werden.
Dass sie live abräumen, haben sie hinlänglich bewiesen.
Wer neben Acts wie Steel Panther, Cherie Currie, den Misfits und Buckcherry on stage bestehen kann, hat nicht mehr viel zu befürchten. Jetzt liegt mit "Green River Thriller" die erste Platte vor. Und das Ding fängt die Power von BLUE RUIN bestens ein.
Die Songs kommen auf den Punkt, bersten nur so vor Spielfreude und Energie, und als wären die eigenen Hits noch nicht genug, gibt´s on top noch ´ne rotzfreche Coverversion des KISS-Deep-cuts ´Turn On The Night´. Die Kiwi-Rock-Szene ist BLUE RUIN längst zu klein geworden. Kürzlich sind die Damen daher nach Europa übergesiedelt.
Eine Tour wird in Kürze bekanntgegeben.
Ein Highlight auf "Green River Thriller" ist das extrem geschmackssichere Cover des KISS-Songs ´Turn On The Night´


Die CD ist jetzt bei Amazon erhältlich und hier ist das neue Promo Video mit Gene Simmons und Ausschnitte der Songs. Da hört Ihr auch schon einen Ausschnitt von Turn on the Night

Gene Simmons hasst I Was Made For Lovin Yo
[Deine Meinung]

19. Oktober 2018
ACE FREHLEY - Ace Frehley spielt sein Soloalbum von 1978 auf der New Jersey Kiss Expo in voller Länge

KISS WILL EXPAND 'END OF THE ROAD' TOUR SETLIST TO INCLUDE 25 SONGS; "WOULD I NEGATE THE POSSIBILITY OF FORMER MEMBERS MAKING APPEARANCES? ABSOLUTELY NOT," SAYS PAUL STANLEY

Ace Frehley: 5 Things We Learned From the Musicians Institute Interview

ACE FREHLEY TALKS WILD, CRAZY LIFE, NEW 'SPACEMAN' SOLO ALBUM, KISS FAREWELL TOUR

#NEW & #EXCLUSIVE! #KISS legend #PaulStanley talks legacy, ex-band members and final tour

ACE FREHLEY ALBUM VERÖFFENTLICHT
Das neue Album von Ace Frehley wurde heute veröffentlicht! Hier kann man das Album probehören.


Ace Frehley "Spaceman" Listening Party New York City

KISS's Setlist For 'End Of The Road' Tour Will Be Expanded To 25 Songs, Says PAUL STANLEY

Ace Frehley worked with Gene Simmons on 'Spaceman,' would 'definitely go back with KISS'

ACE FREHLEY of KISS on Death & Reincarnation, Seeing UFO's, New Record, more

ACE FREHLEY To Perform 1978 Solo Album In Its Entirety At NEW JERSEY KISS EXPO

PAUL STANLEY ON TALK IS JERICHO

Westwood's One Rock Talk With Mitch Lafon - new interviews with original KISS Spaceman Ace Frehley
[Deine Meinung]

18. Oktober 2018
SHOW US YOUR KISS (final mix)

Conversation Series With Ace Frehley

ACE FREHLEY: THE TIME HE PUNCHED TOMMY THAYER

KISS IN DER PRESSE
Neue Magazine mit Kiss-bzw. Ace Frehley Berichte:
Metal Hammer, 2 Seiten Ace Bericht
Classic Rock, 4 Seiten Ace Bericht
Rock It!, 1 Seite Ace Bericht
Rocks, 2 Seiten Ace Bericht und 4 Seiten Review des Gene Konzertes in Deutschland
[Deine Meinung]

17. Oktober 2018
ACE FREHLEY TALKS FIRING BACKING BAND - "IT WAS A NIGHTMARE BECAUSE I KEPT PROCRASTINATING"

KISS - PAUL STANLEY AND GENE SIMMONS TO HONOR ARMED FORCES AND FIRST RESPONDERS ON VETERANS DAY

ACE FREHLEY ON OPENING FOR KISS ON THEIR END OF THE ROAD TOUR - "IF I CAN'T REGAIN MY THRONE, I'M NOT GOING TO DO IT... I INVENTED IT"

ACE FREHLEY On Firing Drummer SCOT COOGAN: He Told Me, 'You're Losing A Rock Star'

Eddie Trunk comments on Ace Frehley firing his band

Dan and Dan Music Podcast - Episode 83 "Paul Stanley of KISS!!!"

Ace Frehley - Good Day Unaired Clip NY Groove

Ace Frehley live on Good Day NY/WNYW Fox 5

Ace Frehley - All For Nothing (1978 Instrumental Demo)

ACE FREHLEY On Firing Drummer SCOT COOGAN: He Told Me, 'You're Losing A Rock Star'

"KISS, GIRA ESPAÑA 2018". YOU CAN ALREADY ORDER THE NEW BOOK BY KISS ARMY SPAIN!!!

Gene Simmons: I sang like my grandmother on I Was Made For Loving You

ACE FREHLEY DISCUSSES HIS 8TH SOLO ALBUM, "SPACEMAN"
[Deine Meinung]

16. Oktober 2018
CRISS CAT #1
Das Album Criss Cat#1 erscheint in Japan als Mini LP-CD und ist hier erhältlich. Vielen Dank an Thomas Bußmann für die Info.

Gene Told Ace To Name His Album "Spaceman"

"Rockin With The Boys" Was Inspired By KISS

ACE FREHLEY - 'Rockin' With The Boys'-Video veröffentlicht

GENE SIMMONS ON KISS HIT "I WAS MADE FOR LOVIN' YOU" - "STILL TO THIS DAY, I HATE THAT SONG"

PAUL STANLEY ON UPCOMING KISS FAREWELL TOUR - "IT'S GOING ON 50 YEARS, THE BAND'S NEVER BEEN HAPPIER; MAYBE THAT'S THE TIME TO START A FAREWELL" (VIDEO)

GENE SIMMONS ON 'I WAS MADE FOR LOVING YOU': I HATE THAT SONG

ACE FREHLEY Explains Why He Fired His Band: 'It Wasn't Just About Funds'

WHY GENE SIMMONS HATES KISS' 'I WAS MADE FOR LOVIN' YOU'

Review: Frehley ready for 3rd trip through space with Kiss

One on One: Paul Stanley of KISS | Celebrity Page

Ace Frehley - 'Spaceman', Women, Firing Band Members - Jim Norton & Sam Roberts

KISS front man Paul Stanley releases a new shoe

INTERESSANTE BEENDETE KISS AUKTIONEN AUF EBAY
Woche für Woche ist es spannend zu sehen, für welche Summen so manche Artikel weggegangen sind. Hier wieder eine Zusammenfassung der interessantesten beendeten Kiss Auktionen letzter Woche auf eBay:

Premium Edition Kiss Box Set: $ 1.275,-




Kiss Promo LP: $ 566,-




Plattenspieler: $ 465,-




Sammelkarte: $ 750,-



Japan Promo Tragtasche: $ 408,-




Alive II Promo LP Peru: $ 398,-




HITS Promo Briefbeschwerer: $ 385,-




Abfalleimer: $ 355,-




Mehr interessante beendete Kiss Auktionen: siehe weiter oben
die teuersten beendeten
Auktionen >>
most interesting
Auctions >>
.

ACE FREHLEY präsentiert Video zu "Rockin' With The Boys"

Metal Hammer Review: Ace Frehley SPACEMAN

Kiss: Über Hass-Songs, ultimative Liveshows und stumme Telefone

GENE SIMMONS - "THERE MAY BE A KISS BOX SET COMING, A BIG ONE"

BRUCE KULICK 'Would Love To Be There' If KISS's Farewell Tour Included Special Show With Former Members

PAUL STANLEY On KISS's 'End Of The Road' Tour: 'People Who Have Never Seen Us Will Be Blown Away'

GENE SIMMONS Says He Still Hates Performing KISS's 'I Was Made For Lovin' You'

Wanna meet ACE FREHLEY OF KISS? Come join us!

Eddie Trunk - Ace Frehley Interview (Gene Simmons Band, KISS End Of The Road Farewell Tour) 10/15/18

Kiss farewell tour could include former band members

Gene Simmons says fans 'destroyed' music by refusing to pay for it

Interview: Ace Frehley On New Solo Album, Possible KISS Reunion

Ace Frehley Unleashes 'Rockin' With the Boys' Video From Upcoming 'Spaceman': Premiere
[Deine Meinung]

15. Oktober 2018
ACE FREHLEY ON CURRENT RELATIONSHIP WITH FORMER KISS BANDMATES PAUL STANLEY AND GENE SIMMONS - "WE'VE KIND OF PATCHED UP ANY NEGATIVE VIBES AT THIS POINT"

ACE FREHLEY PREMIERS "ROCKIN' WITH THE BOYS" MUSIC VIDEO; NYC POP UP STORE / SIGNING AND GOOD DAY NY APPEARANCE ANNOUNCED

ACE FREHLEY ON COVERING EDDIE MONEY: 'I'VE BEEN A FAN SINCE HIS FIRST ALBUM'

ACE FREHLEY On Whether KISS's 'End Of The Road' Is Truly Band's Farewell: 'They Change Their Minds Like The Weather'

GENE SIMMONS SAYS ARTISTS HAVE 'DUTY' TO DO BUSINESS

Video: Gene Simmons Interviewed by Sweetwater

Video: STJERNEKAMP 2018 - HARDROCK - Ulrikke Brandstorp - Heaven's On Fire - Kiss

KISS IN DER PRESSE
Die METAL HAMMER November-Ausgabe 2018: Slayer, Ace Frehley, Disturbed u.v.a.

KISS PULLI BEI KIK
(von Marcus Leutner)
Bei kik gibt diese Woche KISS- Kapuzenpullis im Angebot, sogar mit Original- Logo (!). Auf der Rückseite ist das Cover des Debütalbums.

Hohe Stiefel und harter Rock von KISS

Video: Ace Frehley - Rockin' With The Boys
[Deine Meinung]

14. Oktober 2018
KISS / ARMY OF DARKNESS TRADE PAPERBACK DUE NEXT MONTH


KISS legend, Paul Stanley, brings paintings to Jersey Shore
[Deine Meinung]

13. Oktober 2018
AUSLAUFENDE AUKTIONEN AUF EBAY
Wie jeden Samstag kurz vor 12 Uhr gibt es hier wieder Links zu einigen interessanten auslaufenden Kiss-Auktionen auf eBay:

Flipperscheibe




Ace Unmasked Guitar Pick




Poster




Premium Edition Kiss Box Set




Eric Carr Drumstick 1985




HITS Briefbeschwerer




Paul Weihnachtskarte 1977




TV Magazin




Kiss über die Frage, ob ein finales Album kommt

'Life Should Be Vibrant': Kiss Legend Paul Stanley Speaks About His Artwork Off The Stage
[Deine Meinung]

12. Oktober 2018
Video: Former KISS and current Grand Funk Railroad guitarist Bruce Kulick interview!

PAUL STANLEY TO HOST WENTWORTH GALLERY ARTWORK EXHIBITS THIS WEEKEND IN PENNSYLVANIA AND NEW JERSEY
[Deine Meinung]

11. Oktober 2018
PAUL STANLEY SAYS FANS "REALLY DON'T WANT" NEW MUSIC FROM KISS - "I THINK EVERYTHING WE'VE DONE SO FAR SPEAKS VOLUMES, AND IT'S ENOUGH OF A LEGACY"; VIDEO

ACE FREHLEY FIRES HIS BAND, HIRES GENE SIMMONS' GROUP

PAUL STANLEY ON NEW KISS MUSIC: 'NO, I DON'T THINK SO'

ACE Frehley Signing at Sam Ash Music (Manhattan, NY)

KISS NOT INTERESTED IN RECORDING NEW ALBUM BEFORE FAREWELL TOUR

ACE FREHLEY FIRES HIS BAND, HIRES GENE SIMMONS' GROUP

Gene Simmons: Here's What I Learned From the Lehman Brothers Bankruptcy

Ace Frehley trennt sich von Soloband und ersetzt sie mit Gene Simmons' Live-Combo

ACE FREHLEY ENLISTS GENE SIMMONS SOLO BAND FOR FUTURE SHOWS

ACE FREHLEY Splits With Solo Band, Enlists Musicians From GENE SIMMONS's Backing Group

PAUL STANLEY Doesn't Think KISS Will Release Any New Music Before Calling It Quits

Ace Frehley Interview 2018 - Cassius Morris Show 109
[Deine Meinung]

9. Oktober 2018
Decibel Geek Podcast: Goodbye KISS, Ace Album Review & More

INTERESSANTE BEENDETE KISS AUKTIONEN AUF EBAY
Woche für Woche ist es spannend zu sehen, für welche Summen so manche Artikel weggegangen sind. Hier wieder eine Zusammenfassung der interessantesten beendeten Kiss Auktionen letzter Woche auf eBay:

The Vault Buch & 11 CD's: $ 1.100,-




Weste: $ 750,-




Poster: $ 699,-




The Elder Promo LP Japan: $ 660,-




Rub'n Play: $ 465,-




Gene handgeschriebene Nachricht an Vincent Price: $ 426,-




Gene Spiegel: $ 379,-




Mehr interessante beendete Kiss Auktionen: siehe weiter oben
die teuersten beendeten
Auktionen >>
most interesting
Auctions >>
.

Three Sides Of the Coin Podcast #303: Ace Frehley's New Album Spaceman a Track By Track Review


GENE SIMMONS - "ANYTHING I EVER DREAMED OF, IF I'M WILLING TO WORK FOR IT, COMES TRUE"; VIDEO INTERVIEW

NJ KISS Expo and Christmas Party 2018 with special guest ACE FREHLEY!
[Deine Meinung]

6. Oktober 2018
AUSLAUFENDE AUKTIONEN AUF EBAY
Wie jeden Samstag kurz vor 12 Uhr gibt es hier wieder Links zu einigen interessanten auslaufenden Kiss-Auktionen auf eBay:

Schlafsack




Gürtelschnalle




Gene handgeschriebene Nachricht an Vincent Price




Rub'n Play




Gene Halloween Kostüm




Peter Criss Alive II Drumsticks



[Deine Meinung]

5. Oktober 2018
How much does Kiss make per show?

Special Video Message from Bruce Kulick

Kiss Front Man Paul Stanley Will Appear At Wentworth Gallery At Hard Rock Hotel & Casino

Never Not Funny: The Jimmy Pardo Podcast Episode 2308 - Ace Frehley

ACE FREHLEY Would Take Part In KISS's Final Tour 'For The Right Price'
[Deine Meinung]

4. Oktober 2018
ACE FREHLEY ON PAST CONFLICTS WITH FORMER KISS BANDMATES - "THAT BAD BLOOD THING IS OVER WITH"

Video: KISS 11 27 79 Selland Arena

Kiss: Ace Frehley wäre bei der richtigen Bezahlung offen für Teilnahme an Abschiedstour

Video: Eric Singer drum clinic 10/16/96
[Deine Meinung]

3. Oktober 2018
ALBUM REVIEW: Ace Frehley – Spaceman

SPACEMAN
Die verschiedenen Variatonen von Ace Frehley's "Spaceman" Album auf verschieden färbigen Schallplatten und CD:
Amazon Deutschland: (die dort angebotene LP ist violett)




Amazon UK:


Amazon USA (die dort angebotene LP ist silber)


Video: Gene Simmons on All Things "Kiss," New Book & Moneybag Soda
[Deine Meinung]

2. Oktober 2018
Ace Frehley says he would join KISS farewell tour 'for the right price'

Former KISS Guitarist ACE FREHLEY Says He Knew 'The Elder' Would Bomb

Paul Stanley Amends Stance on Ace Frehley, Peter Criss Reunion

Former KISS Guitarist VINNIE VINCENT To Go Full Electric For Comeback Shows

INTERESSANTE BEENDETE KISS AUKTIONEN AUF EBAY
Woche für Woche ist es spannend zu sehen, für welche Summen so manche Artikel weggegangen sind. Hier wieder eine Zusammenfassung der interessantesten beendeten Kiss Auktionen letzter Woche auf eBay:

Kiss Aquarium: $ 1.925,-




Gewand von Eric Carr: $ 1.272,-




Paul Firehouse Helm: $ 1.496,-




Destroyer Promo Display: $ 1.200,-




Paul Stanley Weste: $ 650,-




Greatest Kiss LP: $ 575,-




Gürtelschnalle: $ 550,-




Marvel Comic 1977: $ 525,-




Fürth 1976 Konzertposter: $ 500,-




Mehr interessante beendete Kiss Auktionen: siehe weiter oben
die teuersten beendeten
Auktionen >>
most interesting
Auctions >>
.

PAUL STANLEY On KISS's Final Tour: 'We're Not Crawling To The Finish Line; We're Celebrating'
[Deine Meinung]

1. Oktober 2018
VINNIE VINCENT - FORMER KISS GUITARIST'S TWO GRACELAND SHOWS WILL NOW BE "FULL SHRED"

ACE FREHLEY On His 1978 Solo Debut: 'I Realized I Could Make Better Music Away From' KISS 'Than I Could With Them'

Keith Valcourt From The Gene Simmons Vault Returns

Paul Stanley: Kiss beat the odds and kicked everybody's ass

Ace Frehley: 5 Essential Guitar Albums
[Deine Meinung]